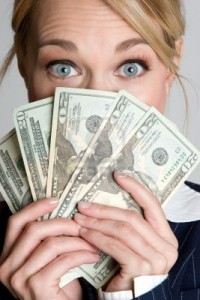 God has a sense of humor – I am not a gal that ever thought I would write a blog about money! My first memory of money was when I was seven. My dad placed one $10 bill on the bed and another pile of five $1 bills next to it. He asked me which option was worth more.  As I selected the pile of $1 bills, I knew I had to be right….I would much rather have five bills than just one bill…but of course I was wrong.
Money has always seemed a bit confusing to me. Why did everyone want it so bad? Why was it so hard to get? If it can be printed, why not just print more?  Over the years I've learned a lot about wealth, finances and money and my journey to get here has been an eye-opening adventure.
So often, I run across women who feel just like I did…Me….Money? I leave that to my husband or our accountant.  I might handle the daily budget but I DO NOT manage INVESTMENTS or our ESTATE.
As a rookie to the world of investing, I mistakenly believed that finance was a MAN'S world and all I could picture was Charlie Sheen in the box office hit "Wall Street."  I thought the financial industry was dominated by money-hungry, powerful, and intimidating men.  All the finance guys seemed to talk in "money code" and as a woman, I felt like such an outsider.
In my twenties, I was single and living on a very small budget. It forced me to be diligent in my saving, spending and giving. I knew nothing about long term investing but slowly started to ask questions and tiptoe in the shallow end of the financial pool.  In doing so, I realized making financial decisions wasn't nearly as overwhelming as I thought. I actually enjoyed it!!
I felt empowered and excited about my future because I had put some plans in place to grow my estate.  It was my responsibility to make sound financial decisions.  I wanted to be a good steward of the money I had.
My desire is for every woman to feel capable and confident about her financial future. I started planning because I wanted security, freedom, and independence – not wanting to be a burden to my future children or grandchildren. I viewed money as a way to enable myself and my future family to live their dreams and passions both personally and philanthropically.
So do you know what is headed our way??
According to Boston College's Center on Wealth and Philanthropy, women will inherit 70% of the $41 trillion in intergenerational wealth transfer expected over the next 40 years. 
This is INCREDIBLE and will change our culture!  How is this possible? Let me explain. With the baby boomer generation getting older, more and more assets are being passed down. Since women live longer than men, they are often "dual inheritors" – inheriting wealth from their parents and their spouses. 80% of women are single when they pass away.  This means that 80-90% of women will be solely responsible for their own finances at some point in their life. This means that we need to get in the game! The stakes are high for us and the tide is changing.
We are on the move as Women. Did you Know:
American females have earned more bachelors and masters degrees than males every year for three decades, leading to increased earning power.
Women now control more than half of the private wealth in the U.S. and make 80% of all purchases.
Over the past three decades (1970-1998), men's median income barely budged (+0.6 percent after adjusting for inflation), while women's has soared +63 percent.
Women bring in half or more of the household income in the majority of the United States.
Women control 51.3 percent of the private wealth in the United States.
Women control 48 percent of estates worth more than $5 million.
This gets me excited to help women learn how to pass down their core beliefs, life lessons, personal stories, and hopes for the future – which truly define who you are.  What I have ultimately learned is that money and finances are not nearly as scary as I thought.  And investing isn't just for MEN! Hey, if I can cook a chicken 20 different ways, I can invest!